While the number of LGBTQ-inclusive kids' books for most age ranges has seen exponential growth in recent years, early chapter books with LGBTQ characters remain exceedingly rare. There's a new one out this week, though: a fun and fantastical story about a girl and a piece of popcorn that comes to life. Oh, and the girl has two dads, but that's happily incidental to the tale.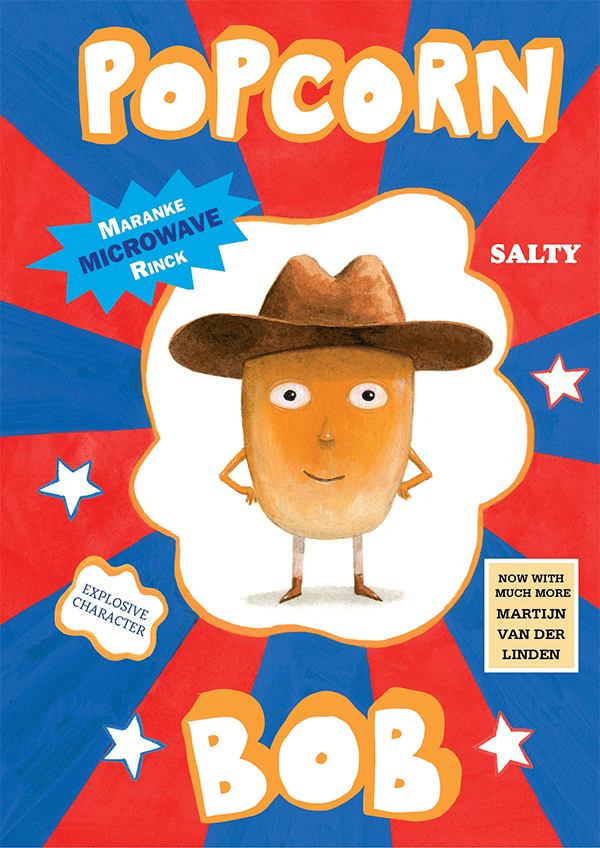 Ellis loves popcorn. Really loves it. The star of Popcorn Bob, by award-winning Dutch husband-wife duo Maranke Rinck and Martijn van der Linden (Levine Querido), microwaves it for herself every day after school. When she has to do a self-portrait for class showing what's in her head, she draws it stuffed with popcorn. A crisis ensues, therefore, when her school decides to ban unhealthy food, including popcorn, and her dads go on a similar health-food kick, relegating the microwave to the shed. Ellis continues to make and eat her favorite snack in secret, though, after she discovers the shed has a power outlet. Her dads, who make their living designing rubber duckies, are blissfully unaware.
Little does Ellis know, though, that a highly illegal growing formula has tainted a crop of corn from the U.S. and one of its kernels has made its way into her home. When she microwaves it, it turns into Popcorn Bob, a large anthropomorphic kernel with an attitude. Bob is hungry. Always hungry. And he doesn't care that Ellis is trying to keep his existence quiet—at home and in school. He calls out wrong answers from her pocket in the middle of class and even eats the principal's candy bar. After days of his misbehavior, she tries to find a way to get rid of him, only to discover that he's actually kind of fun. But Bob seems to have run away….
There's a sort of inspired silliness here that I like, and a narrative pace that keeps the action moving. Van der Linden's pencil drawings, which sometimes carry bits of dialog, also make this a great transition book for children not quite ready for all-text middle grade books. It would also make a fun read-aloud for slightly younger children. Ellis and her dads are all White; the children in her class are of various skin tones.
There's a light theme about friendship, too, although the overall intent seems more to entertain than to convey moral lessons. That's fine; pure entertainment has value, too—and the complete non-issue of the two dads has value of its own. It's actually rather refreshing to read an LGBTQ-inclusive kids' book that isn't weighty with Deep Messages. Sometimes we just want to be amused.
Even better, the marketing materials for the book state upfront that one of the reasons the publicity team loves the story is "gay dads—but that's not what it's about!" The folks at Levine Querido clearly understand that not all stories with LGBTQ characters need to focus on their LGBTQ identities. Perhaps unsurprisingly, the publisher was founded by award-winning publisher Arthur A. Levine, a gay dad himself.
Popcorn Bob officially goes on sale tomorrow, though you can preorder it today. It was was translated from the Dutch by Nancy Forest-Flier, and a sequel is planned for this fall.