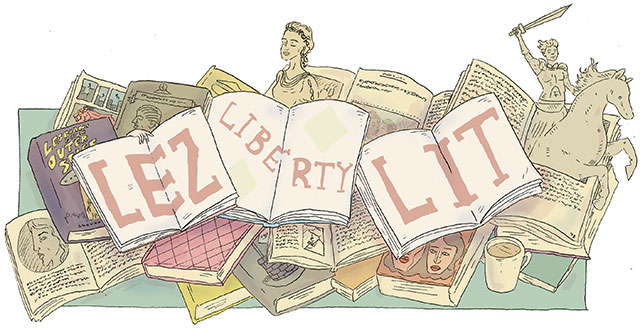 Hey there and welcome to this week's Lez Liberty Lit!
At Electric Literature, Destiny O. Birdsong discusses her debut poetry collection Negotiations, expressing anger as a Black woman, living with a chronic illness and more:
"I entered adulthood believing that my body was supposed to retain a certain kind of social capital in order to be valuable and desirable, and that capital lay in things like beauty, health, and sexual purity. A lot of the poems in the book chronicle my renegotiation of those beliefs in the wake of illness and assault. Letting go of all that allowed me to see myself clearer, see my God clearer, and reclaim my power.

But of course, in spite of all this work, everywhere I turn I'm reminded of how little this world values Black women, which affects me personally in some specific and contradictory ways. I'm often misread as being not enough of something: not smart enough, not beautiful enough, and in some instances, because I have albinism, not Black enough to even speak about these issues. Many of the poems in the book address that, but I also made space for the worlds in which I feel safest and most loved: the private spaces that me and Black women I love create with and for each other. That's what's saved me. That's where I draw my strength, but also my sense of self-worth. I wanted the book to tell the totality of this reality: the blister and the balm."
What is the right way to write an autistic character?
Former Autostraddle editor and friend of the pod Austen Osworth has a new joy-first drafting class at Catapult! Check it out before it fills up.
What happens when literary events move online?
Why are we obsessed with other people's bookshelves?
"Give me a gay section, not gentrified bookshelves."
Here's a history of just going and walking around.
I enjoyed this review of Lush: Life After Alcohol, and maybe you will too:
"As I sipped my own wine while reading this collection, I had the strong urge to put it down and never pick up a glass again, in part because I never felt judged. Ward and Libaire have mastered the delicate alchemy of instilling knowledge, understanding struggles, and conveying complete honesty all at once. Their words are powerful not because they demand change, but because they offer visionary wisdom about life after alcohol."
"How much does your job shape your identity?"
Read these horror books by Filipino authors. Read these eight witchy YA novels. Read These 12 mysteries featuring Black, indigenous, and POC protagonists. Read these spooky stories from around the world. Read these 10 contemporary books by Korean American writers. Read these seven eerie books by Asian authors. Read these 17 short stories by Black authors. Read this forthcoming queer YA. Read these 11 books in October. Read these 12 books on how midwives are changing childbirth.
Carolyn Yates
Carolyn Yates was the NSFW Editor (2013–2018) and Literary Editor for Autostraddle.com, with bylines in Nylon, Refinery29, The Toast, Bitch, Xtra!, Jezebel, and elsewhere. They live in Los Angeles and also on twitter and instagram.
Carolyn has written 1046 articles for us.