Guess what! Late last week I was talking to a friend about the perfect strawberry dessert and then THE VERY NEXT DAY, Kamala made this strawberry cream pie for the Dyke Kitchen. The serendipity!
Netflix's new adaptation of The Babysitters Club is here, it's queer, and it's perfect. Really perfect. If, like me, you spent literal years of your early childhood wandering around with your nose in a BSC book, you truly will not be disappointed.
Speaking of perfection: No Filter: Due To a Technical Error This Post Contains Nine (9) Copies Of the Same Picture of Mercedes Mason.
Batwoman has a new lead, bisexual actress Javicia Leslie! This is very exciting news!
Take the 2020 Autostraddle Reader Survey! Help the team learn more about who you are and what you want and need! And get 20% off in the Autostraddle store, good through 7/15! Doooo it!
The Team has learned a lot about the nature of their relationships these past few months.
Carmen's here with her Top Ten Lesbian TV Shows, and I definitely have to watch Living Single now.
Roxane Gay and Debbie Millman are married!!!!
And then there were your comments!
---
On Anonymous Sex Toy Review: The Palm Power Extreme:
The Put It On Vibrate Award to Deli Twotone:
On 11 Newish TV Shows With New Lesbian and Bisexual Characters:
The Something's Fishy Award to Lavendula and adunlap: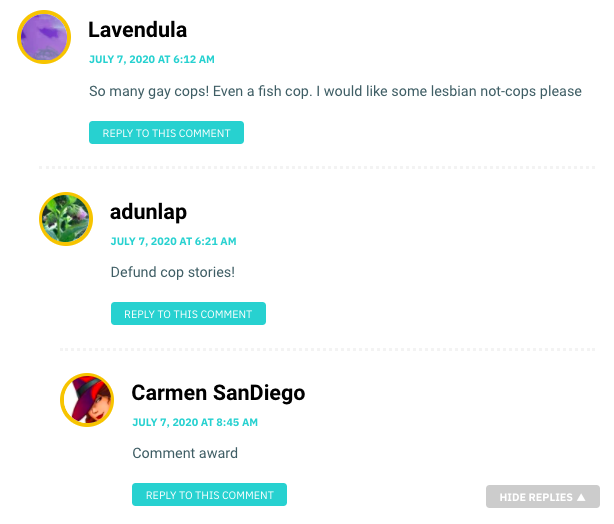 And the Steady Betty Award  to Didi:
On Also.Also.Also: What Do You Mean Dog Years Aren't Real??
The Wubble Trouble Award to Caitlin and murray: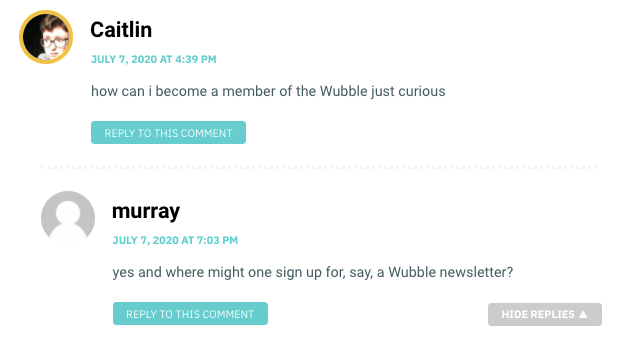 On My Top 10 Favorite LGBTQ Films: Riese, Who Appreciates Teen Angst, Suburban Ennui and Angelina Jolie:
The V-H-Yes Award to Ava: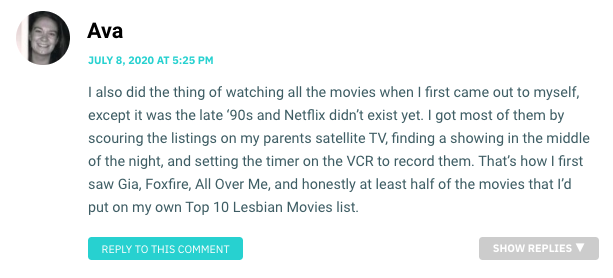 On No Filter: Due To a Technical Error This Post Contains Nine (9) Copies Of the Same Picture of Mercedes Mason:
The Welcome Wagon Award to Becca:

On Meet Your New Batwoman — Bisexual Actress Javicia Leslie!
The Thunderbat Award to thisaintit:
And on My Top 10 Television Shows: Carmen Phillips, Who Has Always Been Rooting For Everybody Black:
The Stardust Award to starlit: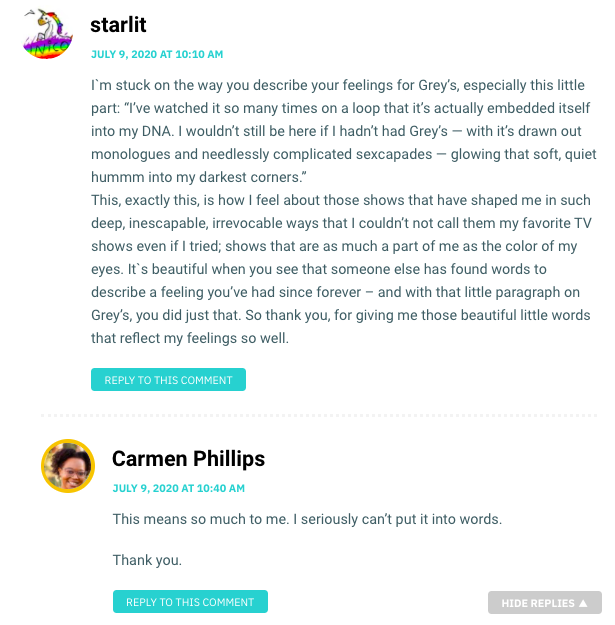 ---
See a comment that needs to be here? Tag me! I'm [at] queergirl.
queer girl
Queer Girl is your number one fan. She's a fat feminist from California who doodles hearts in the corners of her Gay Agenda. She's working on a children's book, she's on Twitter, and she thinks you should drink more water! She also wants to make you laugh.
queer has written 178 articles for us.